Fanny Price Escort - Interview
Q:What makes you notable among other providers? What exactly, you believe, you're good at? What makes your service unique? What is your favorite kind of service?
A:I am authentically me, which can be rare. That means educated, easy going, slightly eccentric (although the perfectly respectable middle class professional on the outside) and I love sex. I am kinky, but again the surface impression might seem very different. I am someone you could take without worry to a business dinner, and then spend the night in erotic adventures.
Q:How do you prefer a client to make an appointment? What information is important for you? Is screening required before the appointment?
A:Email is preferred unless I am touring. It helps of they include possible times/dates any special requests (for example dress) and length of meeting. "Are you working" is likely to be ignored.
Q:Do you ever get nervous before meeting a client? Is it kind of like preparing for a first date?
A:Every time! But the excitement is part of the fun
Q:What sort of personality qualities does someone need to possess to be a successful escort?
A:Tolerance, open minded, non judgemental
Q:If someone wished to become an escort, how would you recommend they go about it?
A:Join saafe and read lots, get to know other escorts, dont be afraid to ask questions
Q:What are your dreams, future goals and aspirations? Short and long term?
A:To finish my masters
Q:What types of clients do you deny to meet? Are there any restrictions?
A:Anyone asking for bareback. Anyone under 21.
Q:What is the strangest request you have ever had from a client?
A:To wear wellies!
Q:Can you tell us a bit about your first escort job?
A:It was the clients divorce celebration, he wanted to spend the night with two sexy bi women, it was wonderful
Q:What did you want to be when you were growing up?
A:An archeologist
Q:Has being an escort changed your view of men?
A:Not really but it has confirmed my preference for older men
Q:How long have you been working as an escort?
A:4 years
Q:How did you get into the escort business?
A:A friend who was a very naughty student nurse needed someone for a duo, she knew I was bi and open minded, the rest is history!
Q:What's the best bit about being an escort?
A:The people I meet, and there is something very sexy about meeting a stranger in a hotel who becomes an intimate aquaintance
Q:What don't you like about being an escort?
A:3 word or very explict messages
Q:How often do you work per week?
A:Variable
Q:What are your turn-offs?
A:Rudeness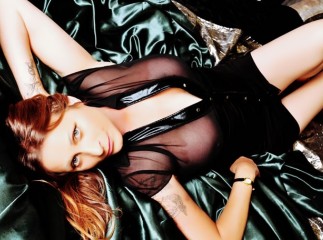 06 Nov 2016
Sophia69 Escort - Interview
Q:Do you have a list of clients that you see regularly that you have formed a special bond with? Would you feel 'cheated' if they saw another girl like how hairdressers get mad at you if you g...
Read more