MistressGia - Interview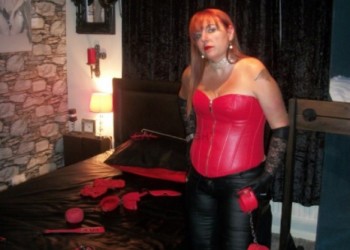 Q:Do you have a list of clients that you see regularly that you have formed a special bond with? Would you feel 'cheated' if they saw another girl like how hairdressers get mad at you if you get your hair cut somewhere else?
A:I do have my specials and they don't see another Mistress. From when they've been here, there's no need to look around any more. They can play with my girlfriend instead for a change if they fancy it, Mistress Gemma. She's switch so obviously my sub and the only time that she ever get to let out her Domme side is in our playroom with others.
Q:How do you handle first-timers or those who have limited experience with escort services? What are your suggestions to such clients to make your encounter the most enjoyable?
A:You enter my room, hand my tribute to me and then simply do as you're told, it's that easy.
Q:If a client decided to make you a present, what would you be happy to receive? What is your wish-list (maybe flowers, lingerie, parfume, music albums, books etc.)?
A:I love Dior perfume and make-up as well as lilies and roses.
Q:What makes you notable among other providers? What exactly, you believe, you're good at? What makes your service unique? What is your favorite kind of service?
A:My playroom is out of this world. My girlfriend and I (Mistress Gemma, she's switch) have the most fabulous playroom with a leather clad double bed and every conceivable toy in there. We have a large, detached house in a very select, private location and your car is parked behind gates that can't be looked through and is covered by cameras. You're completely safe from prying eyes here. I'm an Accountant. People think nothing of nice cars arriving for a while and private business being carried out.
Q:How do you prefer a client to make an appointment? What information is important for you? Is screening required before the appointment?
A:A polite text introducing themselves explaining who they are, what they think they might be into and when they'd like to visit if it's at all possible with me. One text only, then wait for a reply. No pestering. I block those sorts.
Q:Do you ever get nervous before meeting a client? Is it kind of like preparing for a first date?
A:Never. I am a like a Goddess and have nothing to fear. Ever.
Q:What sort of personality qualities does someone need to possess to be a successful escort?
A:Mistress. Dominant, assertive, persistent, consistent, no remorse. I really don't care, if it's what you want and I feel like it, let's do it!
Q:If someone wished to become an escort, how would you recommend they go about it?
A:Become a Mistress? Watch me. Watch and learn.
Q:What are your dreams, future goals and aspirations? Short and long term?
A:I'm very comfortable and would like to stay that way.
Q:What types of clients do you deny to meet? Are there any restrictions?
A:I won't meet with people who call me babe or do text speak or who try to get themselves a better price. Can't be bothered with those sorts. I need polite, respectful people who know their place and can string a few words together.
Q:What is the strangest request you have ever had from a client?
A:Hmm there are so many, hard to choose. Ball busting is fun though (I'm a retired Cage Fighter and I kick someone in the balls repeatedly) not full force, of course but I'm working each one of them up to it.
Q:Can you tell us a bit about your first escort job?
A:I don't remember.
Q:What did you want to be when you were growing up?
A:A vet. It's similar. I still shove things up the bums of livestock! hehe
Q:Has being an escort changed your view of men?
A:Hardly. Pitiful, little creatures who must worship and obey. I always knew that anyway.
Q:How long have you been working as an escort?
A:As a Mistress. 20 years.
Q:How did you get into the escort business?
A:I'm not an Escort. I'm Pro Domme (a Professional Mistress who accepts subs) at my home in the leafy outskirts of Sheffield. I was doing the marketing / security for a sauna in Sheffield and was asked by their Pro Domme if I'd like to earn a little extra money by watching her punish someone. I jumped at the chance and was hooked. I wanted to be her and now I am only on a much more successful scale. ;)
Q:What's the best bit about being an escort?
A:My ever-growing collection of slaves.
Q:What don't you like about being an escort?
A:I have nothing against people who choose to escort, just I refuse to leave the luxury, safety and comfort of my own home. Besides, I have FAR too many toys, I couldn't possibly travel.
Q:How often do you work per week?
A:I'm available every day, it's hardly "work", is it?
Q:What are your turn-offs?
A:People who feel the need to barter. It's just rude.
11 Jul 2019
Kirsty Plymouth Escort - Interview
Q:Do you have a list of clients that you see regularly that you have formed a special bond with? Would you feel 'cheated' if they saw another girl like how hairdressers get mad at you if you g...
Read more